Attorney John J. Fox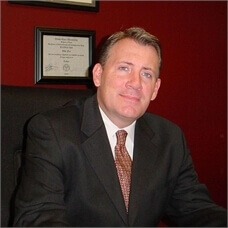 Criminal Defense Lawyer Serving San Antonio
Backed by over twenty years of experience, Attorney John J. Fox fights for rights and futures of those accused of serious crimes. Due to his vast knowledge and years defending the criminally accused, Attorney Fox has a deep understanding of the criminal justice system as well as the potential penalties for various criminal charges.
Regardless of what the accusations made against you may state, Attorney Fox can stand by your side and provide the following:
Representation backed by over 20 years of experience
Free consultations
Personalized attention
One-on-one legal counsel
Bar Admission
Education
St. Mary's University School of Law, San Antonio, Texas, 1998, J.D.
St. Mary's University, San Antonio, Texas, 1998, International Relations, M.A.
University of Texas, Austin, TX, 1989, Radio-Television-Film, B.S.
Special Education Programs
Santa Clara University School of Law, Santa Clara, CA - Institute of International & Comparative Law, Summer Internship Program, Tokyo, Japan, 1996
National Highway Traffic Safety Administration Standardized Field Sobriety Test Practitioner Course, Boerne, Texas, 2006
National Highway Traffic Safety Administration Standardized Field Sobriety Test Practitioner Course Update, San Antonio, Texas, 2018
Foreign Languages
Professional Associations and Memberships
Member, San Antonio Criminal Defense Lawyers Association, Current Member of the Board of Directors
Member, Texas Criminal Defense Lawyers Association
Member, State Bar of Texas
Published Works
Administrative License Revocation Hearings—Can you beat the Kangaroo in His Own Court? August 24, 2007
Community Supervision Programs, The Defender, Volume IX, Issue 3, Oct/Nov, 2007
DWI & Anonymous Tipsters, The Defender, Volume IX, Issue 1, May/June, 2007
The Bexar County Mentally Impaired Offender Facility, The Defender, Volume IX, Issue 4, January, 2008
An Interview with Judge Oscar Kazan, The Defender, Volume IX, Issue 4, January, 2008
ALR Hearings—Is this a New Kangaroo?, February 19, 2009
A New Deal at ALR, April 22, 2009
ALR Hearings—A Leaner, Meaner Kangaroo?, January 20, 2010
Classes/Seminars Taught:
Administrative License Revocation Hearings, SACDLA CLE Seminar, 2007